A Morning of Innovation in Tutzing Elderly Day Care
Interpreted in English from an original article in German. For the original, see Tutzing Day Care website. All photos are copyright Tutzing Day Care, and are shared with permission here.
The elderly day care in Tutzing experienced a morning marked by groundbreaking encounters: The Munich-based startup Devanthro visited and presented their Robody prototype – not a conventional robot, but a humanoid robotic avatar operated remotely by a person. Devanthro's goal is to establish a new form of 24-hour home care in collaboration with outpatient care services, where a Robody moves in with the person at home, allowing help and support to be available at all times. The focal point of the test was the new head of the Robody, which displays the face of the operating person live, eliciting excitement among the guests – even those with dementia-related cognitive changes.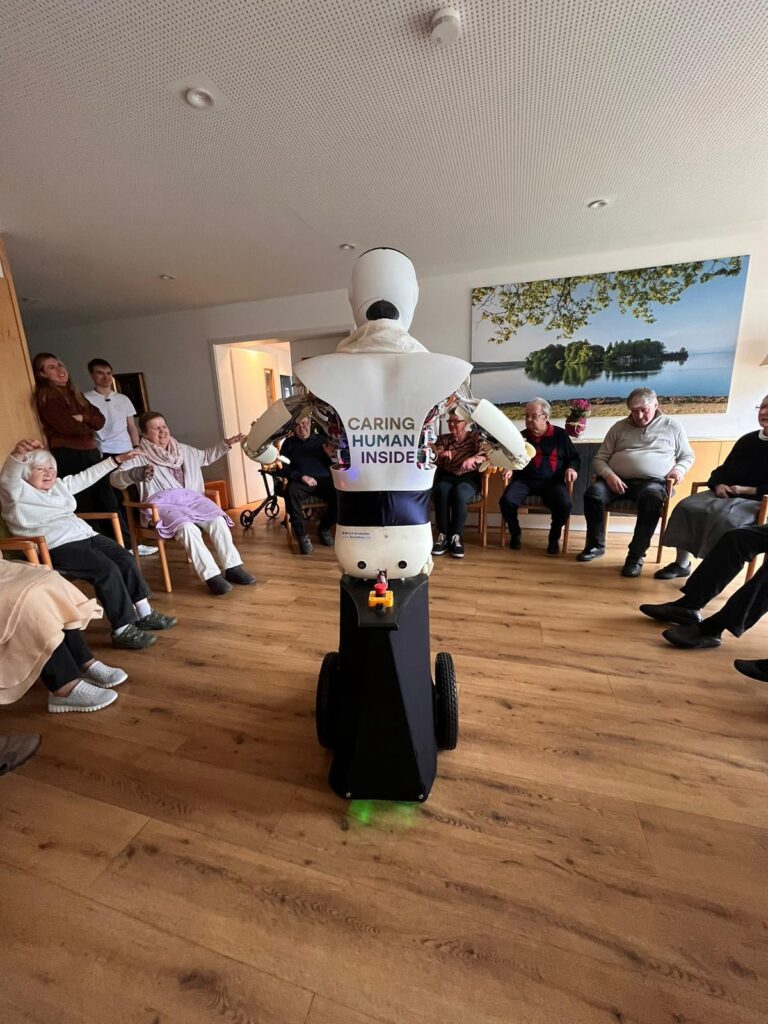 During the morning, nine visitors of the day care had the opportunity to interact with the Robody in small groups. The eyes of our seniors lit up with curiosity and amazement each time Rafael Hostettler, the CEO of Devanthro, put on the control glasses in another room, thus bringing the Robody to life.
A particularly touching moment was when one of our guests, enchanted by the Robody, spontaneously embraced it, spreading a wave of joy in the room.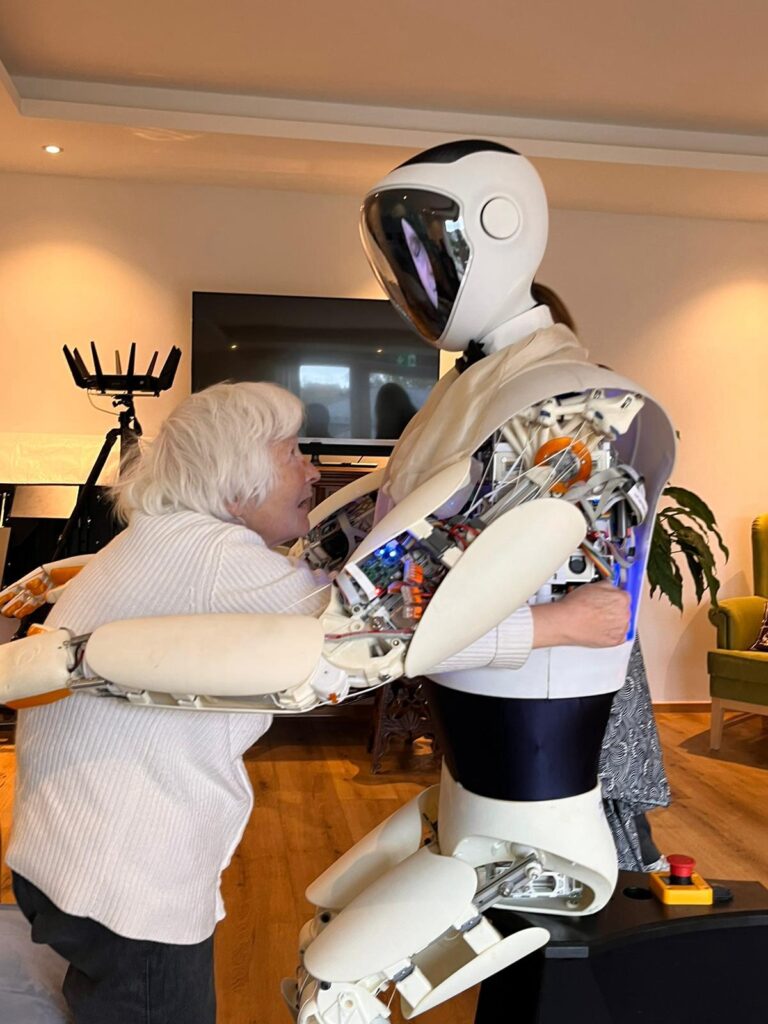 Another guest, literally touched by the experience of holding Robody's hand, encouraged a caregiver to share the 'magical' experience of holding hands with Robody – a moment of connection and amazement.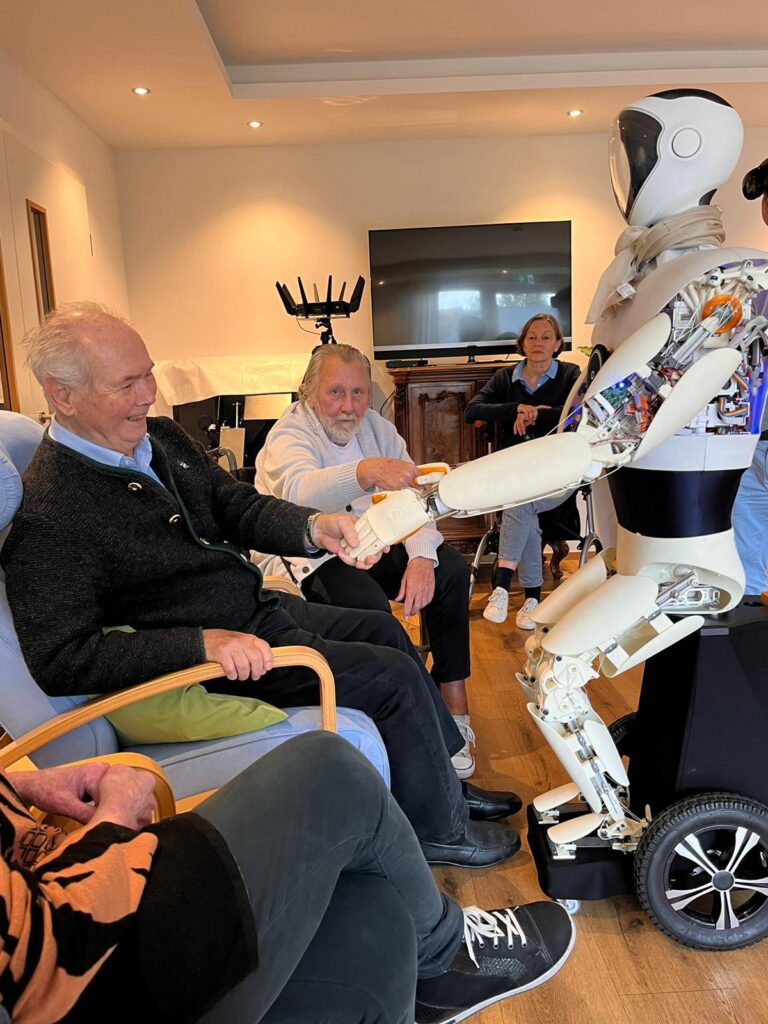 Yet this technological encounter was more than just a simple meeting; it was a bridge between generations, a sign that empathy and advanced technology can go hand in hand. Our guests found in Robody not just a source of joy, but also a constantly present companion that could make their lives at home easier. The fact that relatives could control Robody and thus be there more easily for their loved ones thrilled the test participants especially. As this innovative morning came to an end, eight of the nine visitors wanted to take it home with them. And thus it became clear that Robodies are much more than a technological novelty – they are an embodiment of human touch and understanding, transmitted through the world of technology. Every participant left the room with a smile and a personal photo showing them with the Robody – a lasting memory of an interactive and meaningful encounter.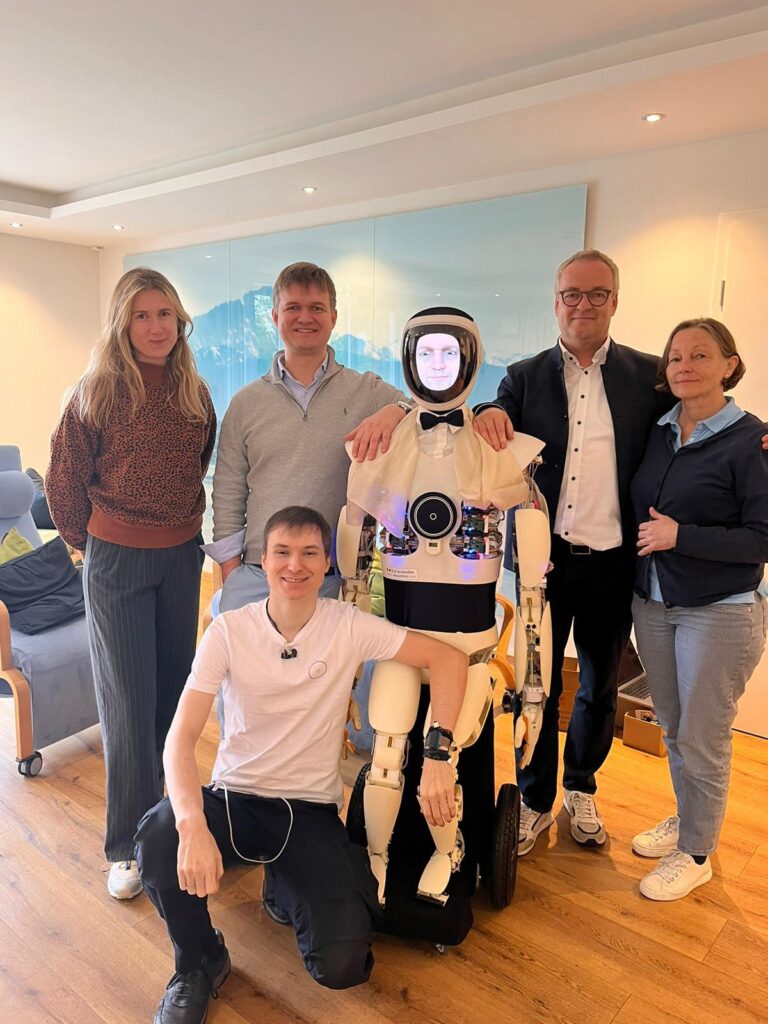 The day care in Tutzing got a taste of the future of elderly care through this experience, where empathy and advanced technology seamlessly intertwine. Devanthro's Robodies not only have the potential to revolutionise care but also to preserve human closeness in a time when it is most needed.
"We were ourselves surprised at how positively our guests received the Robody and how relaxed and lively they interacted with it – even guests with dementia-related changes. The visit left a lasting impression on us. We look forward to seeing them again soon and are eager to support Devanthro in further pilots."
Armin Heil
Managing Director & Nursing Service Manager
Devanthro is a Munich-based robotics and AI business, building Robodies – robotic avatars for the elderly care market. Their partners include Charité Berlin, University of Oxford, and Diakonie. An early prototype is part of the permanent exhibition at Deutsches Museum in Munich. For more information, please visit https://devanthro.com/.